1. Install Winamp Standard.
To install winamp you will need to download it from winamp website.
Please note that while Winamp has a Mac OSX version, the required plugin to stream through shoutcast using Winamp does not. Winamp can not be used to stream through shoutcast from OSX. For an alternative, please consider Nicecast.
2. Install the SHOUTcast DSP Plugin.
Now you will need to download and install (using the default settings) the SHOUTcast DSP plug-in.
Once the download has completed, you will need to install the software.
Verify that Winamp is not running, then double click on the installer that you downloaded and follow the on-screen instructions.
3. Enable the SHOUTcast DSP Plugin.
a. When the installation process has completed, start Winamp.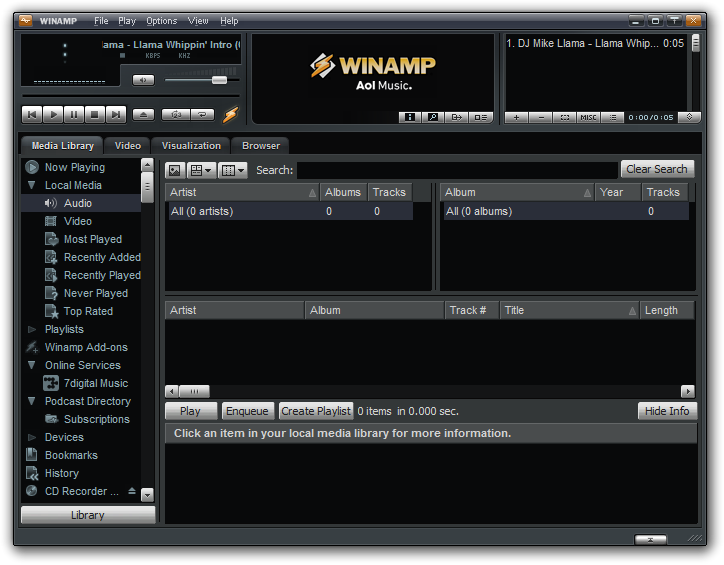 b. Open "Preferences" (Options -> Preferences, or CTRL+P).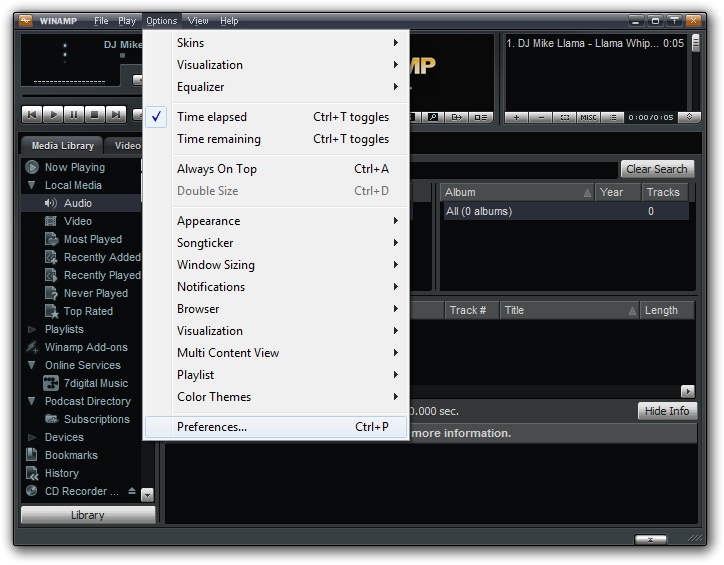 c. On left menu scroll down and Click on "DSP/Effects", and highlight "Nullsoft SHOUTcast Source DSP v2.2.3 [dsp_sc.dll]" or newer version.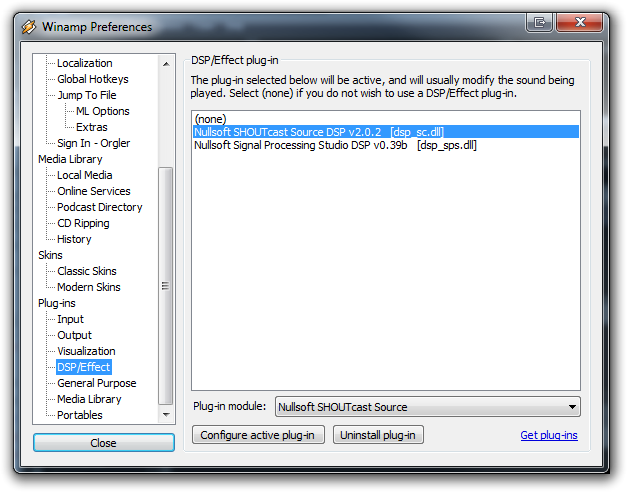 d. When you have selected it, a new window should pop up. You may now close your preferences window. (Press "Close")
e. You should now have the Nullsoft SHOUTcast Source window running alongside Winamp. This will now automatically run every time you start Winamp.
4. Configure SHOUTcast Source (The SHOUTcast Source Plugin).
The first settings you will need to modify are the connection settings.
a. Select the "Output" tab at the top of your DSP window. Select "Output 1″ under the selection box, and fill in all of the following fields properly.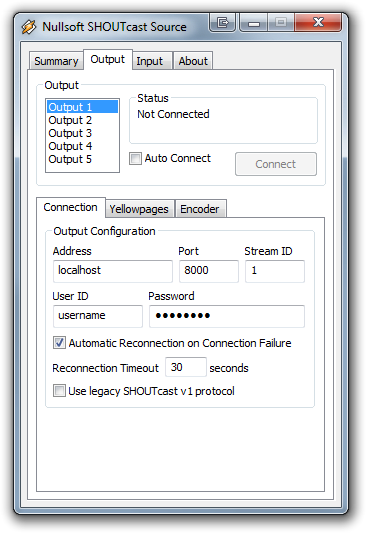 b. Input your Output Configuration:
Address: /IP,: Here, you need to enter the server ip that was given to you in the welcome email you received from us. It should look something like "xxx.xxx.xxx.xxx″. Make sure that you put in the proper server, or else you will not be able to connect. (This information can be found within your ShoutCheap control panel overview).
Port: In this field, you need to enter the port that was given to you in your welcome email. It should contain 4 numbers. Once again, this must be set properly or else you will be unable to connect.
Password: Last, but not least, you need to set the password that was given to you in your welcome email, or the one that you changed it to. Enter this here, and make sure there are no mistakes.
Also remember to select the User shoutcast v1 mode (for legacy servers)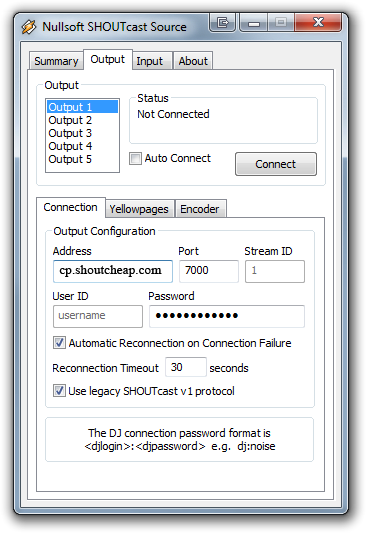 c. Select "Yellowpages" tab , and fill in the appropriate information.
If you'd like your server to be listed in the SHOUTcast directory, check the "Make this server public" box, and fill in all of the information below the box in a proper manner.
Be sure to check the "Enable Title Updates" and the two boxes that say "Auto" in order to show your users the title of the song that is playing.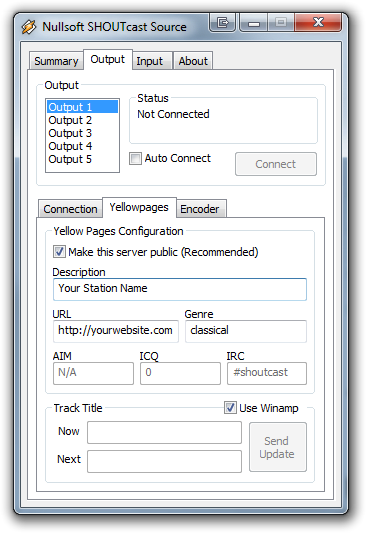 d. Select "Encoder" Tab, and select "MP3 Encoder" as the Encoder Type.
The Encoder Type can be set to either MP3 or AAC+, our servers support both.
MP3 is compatible with just about every media player on the market. AAC+ is only compatible with Winamp and Windows Media Player (with a plugin), but sounds much better at lower qualities. Be sure to choose wisely.
The Encoder Settings is the bitrate at you will be streaming the audio.
For the Encoder Settings, make sure match it to the plan you purchased with your ShoutCheap account (the bitrate).
Note: If you stream at a bitrate higher than what you have ordered, the system will send you a warning email, and stops your streaming account.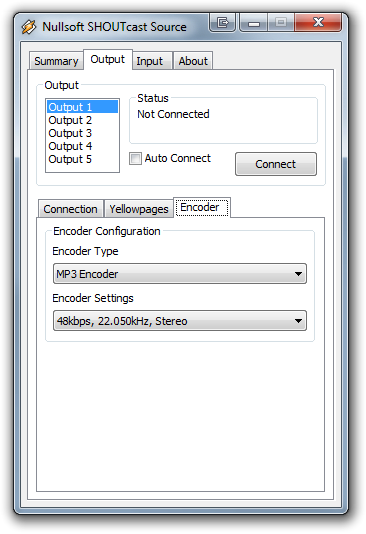 5. How to DJ.
a. Select "Input" Tab.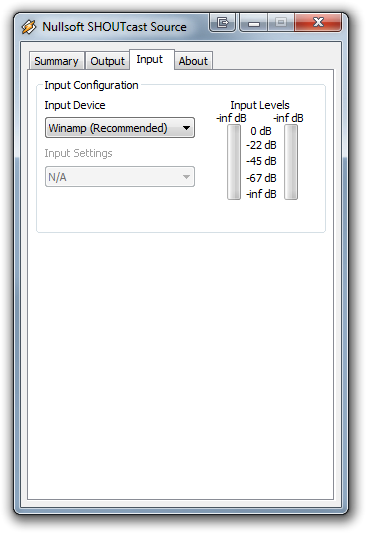 b. On this tab, you can select "Winamp (Recommended)" or "Soundcard Input" under the Input Device.
Having "Winamp (Recommended)" selected will stream the music you are presently playing in Winamp. Having "Soundcard Input" selected will stream audio from your microphone, or the input device you select.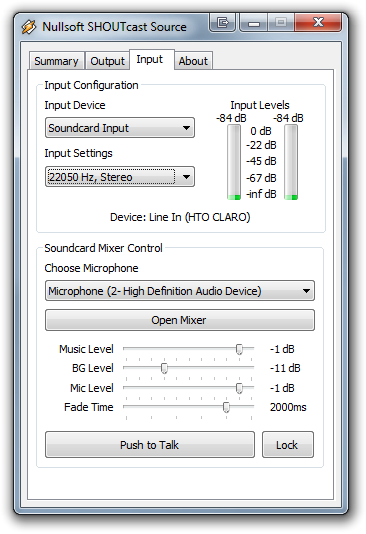 c. For streaming from your microphone, select "Soundcard Input". You should match the "Input Settings", to match the "Encoder Settings" you set earlier under the Output -> Encoder tab.
d. For broadcasting, to play music, switch the input device to "Winamp (Recommended)". When you want to talk, select "Soundcard Input". Switch the Input Device back to "Winamp (Recommended)" for the moment.
As every sound card is different and individual, we cannot give any detailed tutorials for the Sound Card Input.
6. Start Broadcasting.
To connect, select "Output" Tab, make sure "Output 1″ is selected, and then click the connect button. In the status box above the button, it should give a time and then "Sent xxxx bytes".